First meeting of the GREGoR Consortium Held at the Research & Innovation Campus
December 12, 2022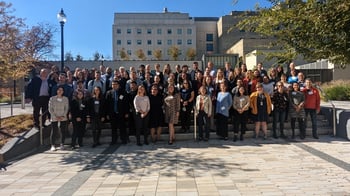 The Genomics Research to Elucidate the Genetics of Rare diseases (GREGoR) Consortium held its first annual meeting at the Children's National Research & Innovation Campus on Nov. 1-3, 2022. The event, with over 140 participants, took full advantage of the renovated, state-of-the art campus – from the conference theater for general sessions attended by both in-person and virtual participants, to the beautiful open areas and conference rooms in the Children's National Research Institute for meals, networking and career-building sessions for early-stage scientists. Featured speakers included Vittorio Gallo, Ph.D., interim chief academic officer of Children's National Hospital, and from the National Human Genome Research Institute (NHGRI), Eric Green, M.D., Ph.D., director, and Vence L. Bonham Jr., J.D., acting deputy director.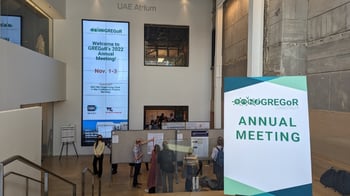 The GREGoR Consortium is funded by the NHGRI within the National Institutes of Health (NIH). Established in 1989, NHGRI collaborates with scientific and medical communities to catalyze genomic breakthroughs and supports the robust study and treatment of specific diseases with our colleagues at NIH. The consortium seeks to develop and apply approaches to discover the cause of currently unexplained rare genetic disorders. It includes:
Five research centers (Children's National Hospital/Invitae, Broad Institute, Baylor College of Medicine, GREGoR Stanford Site, and the University of Washington Center for Rare Disease Research)
A data coordinating center (based at the University of Washington's School of Public Health - Genetic Analysis Center)
NHGRI within the NIH program staff
Other collaborators and research groups studying the genomics of rare diseases who wish to become partner members
In this uniquely collaborative organization, everyone is focused on contributing to high-impact research and helping to apply new discoveries to the study of human health.