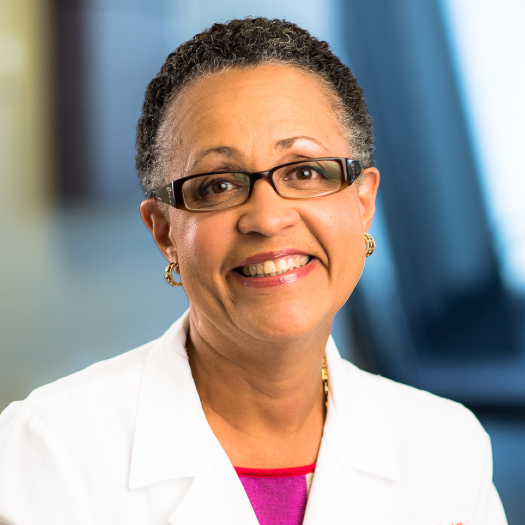 Denice Cora-Bramble, M.D., M.B.A.
M.B.A., Medical Services Management, Johns Hopkins University, Baltimore, Maryland, (1999-2003)
Residency Program, Pediatrics, Howard University Hospital, Washington, DC, (1983)
M.D., Medicine, Howard University College of Medicine, Washington , DC, (1976-1980)

Denice Cora-Bramble, M.D., M.B.A., is the inaugural chief diversity officer at Children's National Hospital in the District of Columbia. In this role she leads the Diversity, Equity and Inclusion (DEI) Program at Children's National, overseeing the execution of the DEI vision and strategic plan. Over the past 18 years, she held leadership positions at Children's National and after an 8-year tenure, Dr. Cora-Bramble recently retired from her position as chief medical officer and executive vice president of Ambulatory and Community Health Services. She was the first African American and first woman to hold this executive clinical leadership position in the 150-year history of Children's National.

After finishing a bachelor of science degree at George Washington University, Dr. Cora-Bramble completed her medical and pediatric residency training at Howard University and a master's in business administration with a concentration in medical services management from Johns Hopkins University. Her professional development also included a three-year W.K. Kellogg Foundation Leadership fellowship. She held several leadership positions at the George Washington University Medical Center and the U.S. Department of Health and Human Services. Additionally, she served as a commissioned officer in the U.S. Public Health Service.

Dr. Cora-Bramble is a Professor of Pediatrics at George Washington University School of Medicine and a diplomate of the American Board of Pediatrics. She is the recipient of the highest national honor in community pediatric education, the Academic Pediatric Association and American Academy of Pediatrics' National Pediatric Community Teaching Award.

In 2016, she was recognized by the Washington Business Journal with a "Woman Who Means Business" Award. In 2017, she was selected by Washingtonian Magazine as one of Washington's "Most Powerful Women." In 2019, Dr. Cora-Bramble was awarded the inaugural Diversity and Inclusion Award by the George Washington School of Medicine and Health Sciences Center for Faculty Excellence in recognition of her significant achievements in the field of diversity and inclusion. She was also recognized by Johns Hopkins University with the Distinguished Alumna Award.

Dr. Cora-Bramble, an Afro-Latina, was featured in the book Against All Odds: Celebrating Black Women in Medicine, as one of 100 of the most prominent historical and contemporary Black women physicians in the United States. Most recently, she was selected by the Latino Leaders magazine as one of 100 Most Influential Latinas in 2021.