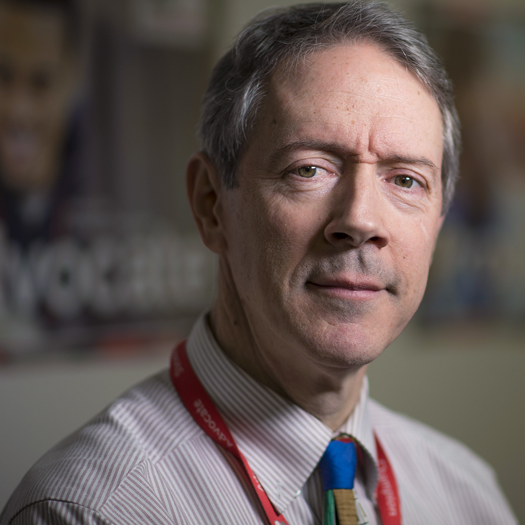 Gerard Anthony Gioia, Ph.D.
Director, Safe Concussion Outcome, Recovery and Education (SCORE) Program
Postdoc, Pediatric Neuropsychology, Boston Children's Hospital, Boston, MA, (1986-1987)
Internship, Pediatric Psychology, University of Maryland Department of Pediatrics, Baltimore, MD, (1982-1983)
Ph.D., School Psychology, University of North Carolina, Chapel Hill, NC, (1979-1984)
B.A., Psychology, Franklin & Marshall College, Lancaster, PA, (1974-1978)

Gerard Gioia, Ph.D., is the director of the Safe Concussion Outcome, Recovery & Education (SCORE) Program at Children's National Hospital. He is a professor at George Washington University School of Medicine. He directs the Neurobehavioral Core research laboratories for Children's National's Clinical and Translational Science Institute and the Intellectual and Developmental Disabilities Research Center.

Dr. Gioia treats persons and families with brain injuries with dual areas of interest in disorders involving the executive functions and pediatric concussion/ mild traumatic brain injury (TBI). He has been the Principal Investigator of several multi-site CDC-funded research studies of pediatric mild TBI with a focus on the development of methods/tools for the evaluation of the executive functions and post-concussion neuropsychological functioning. He has developed several smartphone apps, Concussion Recognition & Response and Concussion Assessment and Response (CARE Sport), the Acute Concussion Evaluation (ACE) and ACE Care Plan, a pediatric neurocognitive test for concussion, and post-concussion symptom scales for children and parents. He works closely with the CDC on their "Heads Up" concussion educational programs, as a contributing author to the toolkits.

Dr. Gioia has been an active participant in the 2004, 2008, and 2012 International Concussion in Sport Group Consensus meetings, and was on the American Academy of Neurology Sports Concussion Guideline Author panel. He is the team neuropsychologist for the NHL's Washington Capitals and the NFL's Baltimore Ravens, school systems, and numerous youth sports organizations in the Baltimore-Washington region. He consults with the local and National Governing Organizations of ice hockey, lacrosse, football, rugby and soccer related to concussion management and is on the Medical Advisory Committee for USA Football and the National Advisory Board of the Positive Coaching Alliance.