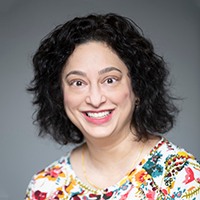 Sangeeta Sule, M.D., Ph.D.
Division Chief, Rheumatology
Associate Professor of Pediatrics
Ph.D., Johns Hopkins University Bloomberg School of Public Health, Baltimore, MD, (2008)
Fellowship Program, Rheumatology, Johns Hopkins Hospital, Baltimore, MD, (2003)
Residency Program, Internal Medicine and Pediatrics, Baylor College of Medicine, Houston, TX, (2000)
M.D., Baylor College of Medicine, Houston, TX, (1996)
B.S., Tulane University, New Orleans, LA, (1992)

Sangeeta Dileep Sule, M.D., Ph.D., started her career as a pediatric rheumatologist by studying cellular and molecular biology at Tulane University. She attended medical school at Baylor College of Medicine and completed a doctorate in philosophy in clinical investigation from Johns Hopkins University School of Public Health. After completing a postdoctoral fellowship in rheumatology at Johns Hopkins University School of Medicine, Dr. Sule taught courses in pediatrics and internal medicine while she practiced in the field.

As the Chief of Rheumatology at Children's National, Dr. Sule believes in treating the whole child. She continues to support and expand the Division of Rheumatology, while introducing clinics tailored for specific diseases—such as arthritis and lupus. She focuses on providing multidisciplinary resources to pediatric patients diagnosed with rheumatologic disease and is passionate about fusing the latest research into routine practice.

Dr. Sule is also a dedicated mentor, educator and faculty advocate. She served on the medical school admissions committee for Johns Hopkins and on the Office of Women in Science and School of Medicine Advisory Group for many years. She serves on the American College of Rheumatology Pediatric Rheumatology Residents Program Subcommittee.